We are excited about the new year and thankful to have you all with us, we welcome you into this amazing year. Oh well! It's that time again when we pen down our goals and plans for the year. The New year's resolutions and the things we want to achieve at the end of the year. It's actually a fun experience and a very good time to come up with a fresh start to keep track of our health. So, as you plan to eat right, get in shape, hit the gym, and lose those habits also add in how to control the quality of the air you breathe. As your indoor air quality is very important.
Air pollution- The Effects.
The effect of air pollution on human health has been a great concern, as ninety percent of the world's human population breathes polluted air mostly predominant in developing countries like Nigeria. Air pollution puts everyone at risk. According to IQAir today (January 10, 2023) – when it comes to air quality index and fine particulate matter (PM2.5) concentrations, Nigeria ranks eighteenth among countries with the worst air quality with Port Harcourt being the most polluted city. Studies have shown that exposure to air pollution increases the risk of myocardial infarction, stroke, heart failure, arrhythmia, and sudden death. Following a recent World Health Organization (WHO) report, over twenty percent (20%) of deaths from cardiovascular disease are caused by air pollution—this translates to about three million deaths every year and this will increase unless we take action.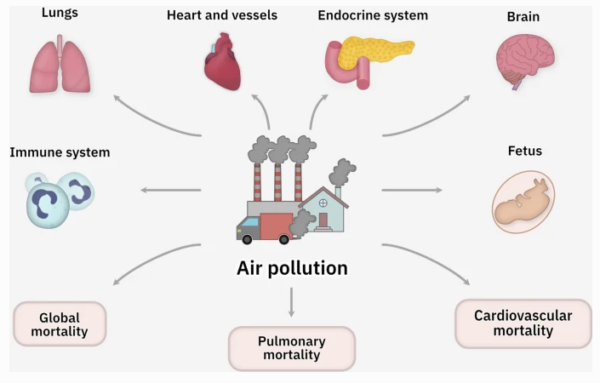 Air Pollution- Who are those at risk?
Everyone is at risk but the most vulnerable are: Children The elderly ones. Those with underlying cardiovascular conditions [ e.g. ischemic heart disease, heart failure]. Those with diabetes. Those with high cholesterol levels.